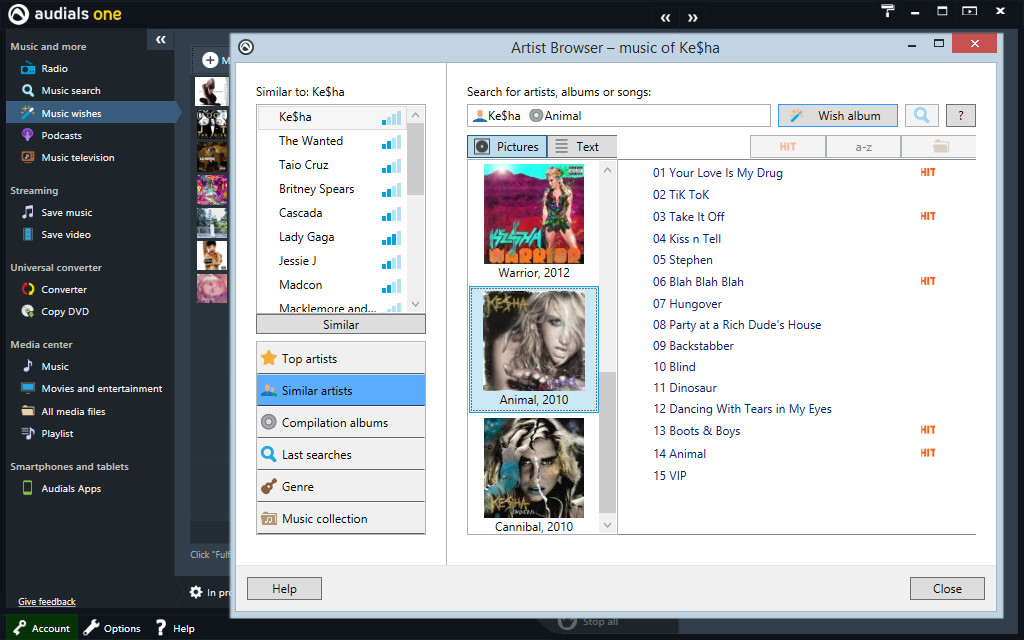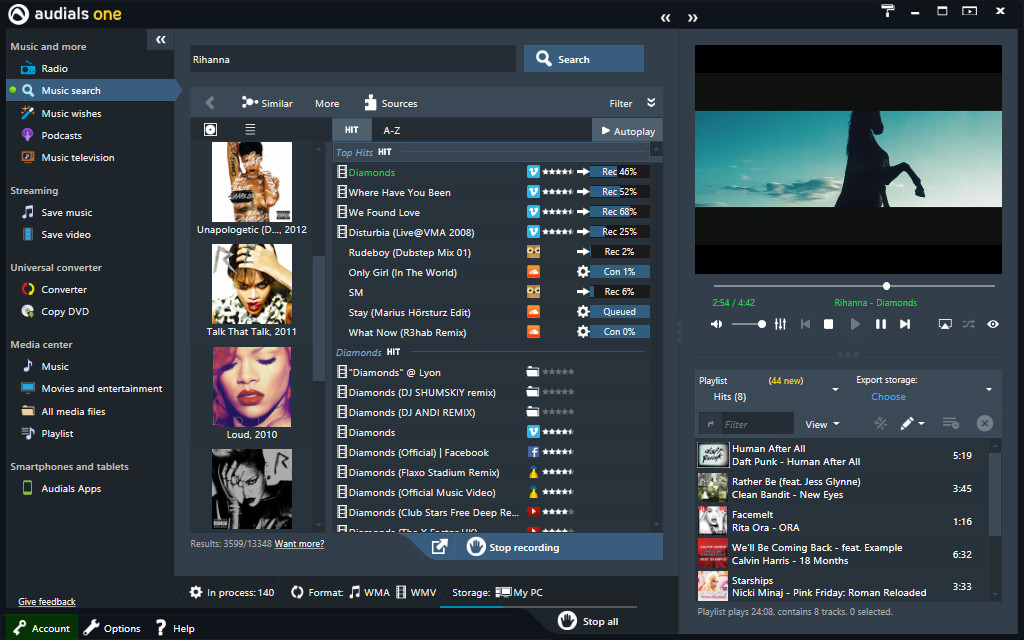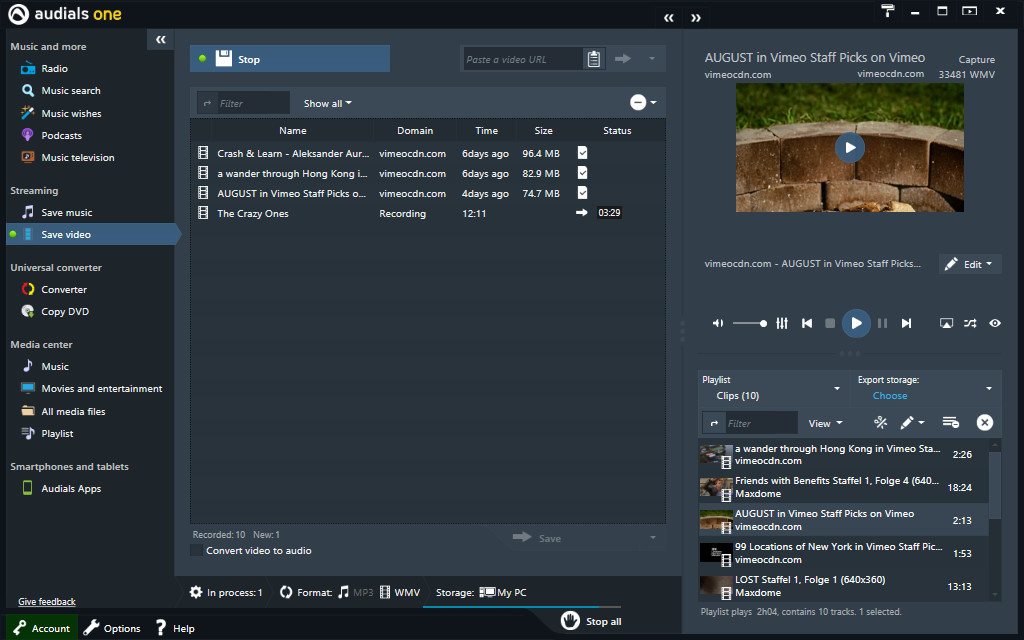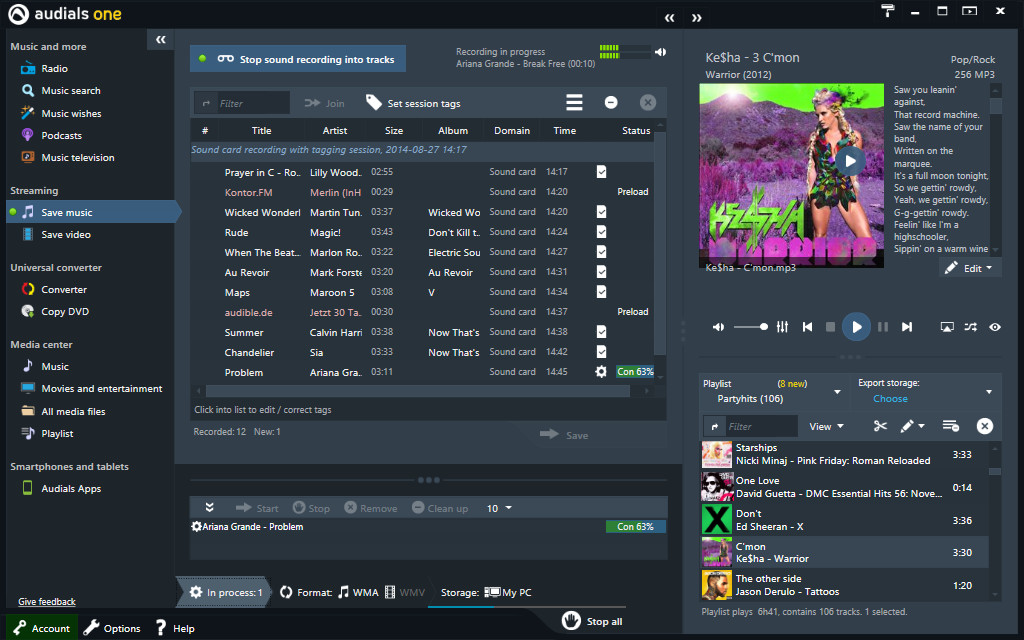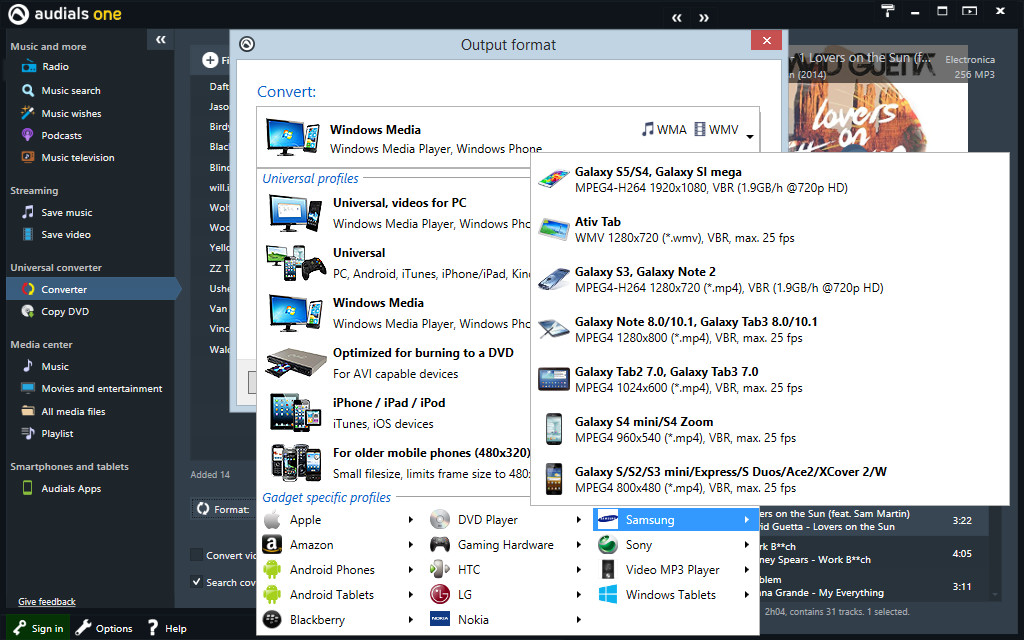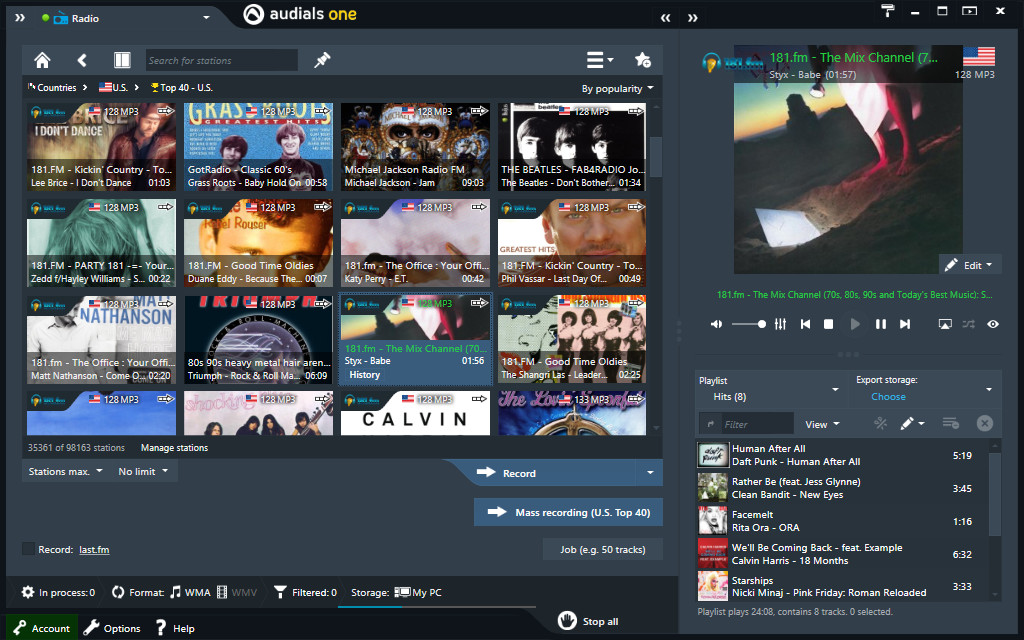 Descrição
Music, Movies, Videos, Podcasts and Radios - Find, record, download, convert and enjoy ...
Music, Movies, Videos, Podcasts and Radios - Find, record, download, convert and enjoy anywhere! Audials One 12 Suite is the best All-in-One Solution.
Audials One 12 Suite is the best at quickly supplying you with massive amounts of free and legal music. Only Audials can monitor thousands of Internet radio stations, while simultaneously searching for the highest quality tracks to automatically give you the music you want for your PC, cloud or portable playback device.
Brace yourself, it's about to get real - real full!
Stuff thousands of MP3s into your PC with just one click. Audials One 12 Suite uses the entire scope of your broadband connection to supply you with targeted recordings of music tracks by 870,000 artists or MP3s en masse from 120 different genres—24/7, completely automatic, free, legal and in music-shop quality.Record absolutely anything with the Audials One Internet Recorder! Audials One 12 Suite records from radio stations, music streaming, TV, video clips and movies, before saving those files individually in the best possible quality. Audials gives you any protected and unprotected media file you can find online for you PC, smartphone or tablet. There's no easier way to get free entertainment for at home or on the go.A little something extra in entertainment Miss your favorite show? Not a problem with Audials One 12 Suite! Audials One lets you enjoy your favorite series even after it's aired. With Music TV and the World of Podcasts, there is a ton of entertainment waiting just for you. Boredom is a thing of the past! Enjoy the best entertainment anytime and anywhere Audials One doesn't only just deliver lots of free entertainment straight to your computer. It also polishes your new files and packs a bunch of extras to optimize your entertainment fun.Copy, convert & archive – file-related problems are history 60 file formats & 75 device profiles are preset and ready to maximize user-friendliness for copying music, videos, audiobooks, podcasts, movies and DVDs, before converting or archiving those files in the required format for your smartphone, tablet or game console. Problems related to copy protection or file formatting are old news thanks to Audials One.MUSIC and MORE

Radio - Listen & Record Internetradios: Audials offers the largest database with the most radio stations on the Internet. All songs can be played and recorded with just one click!

Music Search - Save Music from Videos: Audials One simultaneously monitors the best video and music portals to provide you a wide selection of music videos based on quality that are ready to be recorded. With just a click, you can instruct Audials to begin recording and saving your selected tracks in any desired file format.

Music Wishes - Get MP3-Music for free: Music as finished MP3s from Internet Radio Stations and Websites for free. Enter a music wish and Audials gives you your music with a click

Podcasts and Music TV - Find, subscribe and download: Podcast Entertainment, absolutely free! Audials One is the perfect Podcatcher for your Entertainment, while also offering great Variety with Music TV. You can subscribe to them for free and then Audials will automatically download new episodes as they appear.

STREAMING

Save Music - Record Music-Streaming: With Audials you can record free, subscription-based, unprotected or protected music from audio streams on websites or music players and automatically save it with all available ID3-Tags, album images and lyrics in high quality, for example as MP3s on your PC, to your cloud or on a mobile device.

Save Video - Record Video-Streaming: With Audials, you can record any video service and save the movies automatically in any desired video format for Windows PC, Android Smartphone & Tablet as well as Apple iPhone & iPad! It`s easy as pie: with one click you simply select the desired video service, media library or online video library in Audials. Then you automatically record video clips, TV series and movies while viewing them in your browser, player or in full-screen mode and Audials subsequently stores the recording in any desired video format on your hard drive or directly to your cloud. You can also enter a link from YouTube for example in Audials and directly get the recorded file for that video.

UNIVERSAL-CONVERTER

Converter (Audio) - Convert file format of Music files: The Audials Audio Converter lets you easily convert protected and unprotected music and audio files into any desired format without sacrificing quality.

Audio Book Converter - Convert Audio Book files: Audials lets you convert protected and unprotected audiobooks with and without chapters into MP3 files for any device. Audials One performs this function by giving the audiobook library, like Apple iTunes, a virtual CD-rom drive, before making a virtual copy of the audiobook in the highest quality as an MP3 file.

Converter (Video) - Convert file format of Videos & Movies:


The Audio Format Converter: The Audials Audio Converter lets you easily convert protected and unprotected music and audio files into any desired format without sacrificing quality.

The Video Format Converter: Convert unprotected Internet videos, TV shows from media centers or protected movies purchased in shops with the Audials Video Converter. The converter provides you with files optimized for playback on any of your devices, while also giving you the files in the highest quality available.

DVD-Copy - Copy, record & archive: Audials contains an integrated copier, which re-records your purchased and protected DVDs and then saves those files in the optimal resolution for your device and in the right file format. Unprotected DVDs are copied directly and faster. These copies are considered private copies, making them completely legal and letting you play and enjoy your movies no matter where you are.

MEDIATHEK

Music, Movies & Entertainment and Playlists: a perfect media management at home and away!

All Media - Media-Center: The Audials media center is the media centerpiece for every type of Audials software, where you complete, edit, enjoy, manage, sync and transfer your files for PCs, smartphones, tablets and clouds. Anytime and anywhere.
Prós & Contras
Prós
Não encontramos pontos positivos.
Contras
Não encontramos pontos negativos.
Avaliações sobre o Audials One 12 Suite - Steam