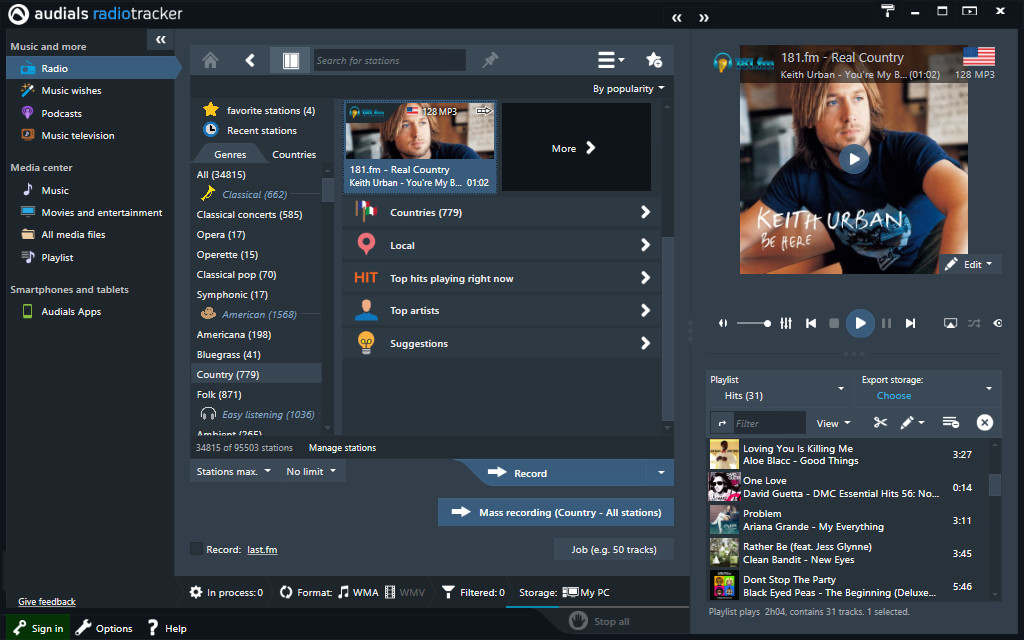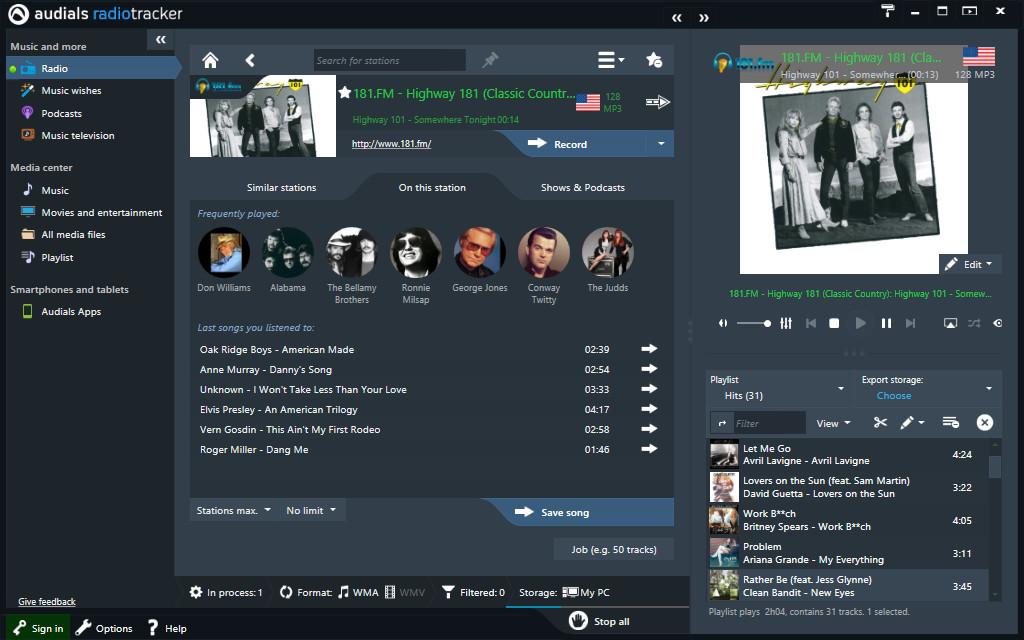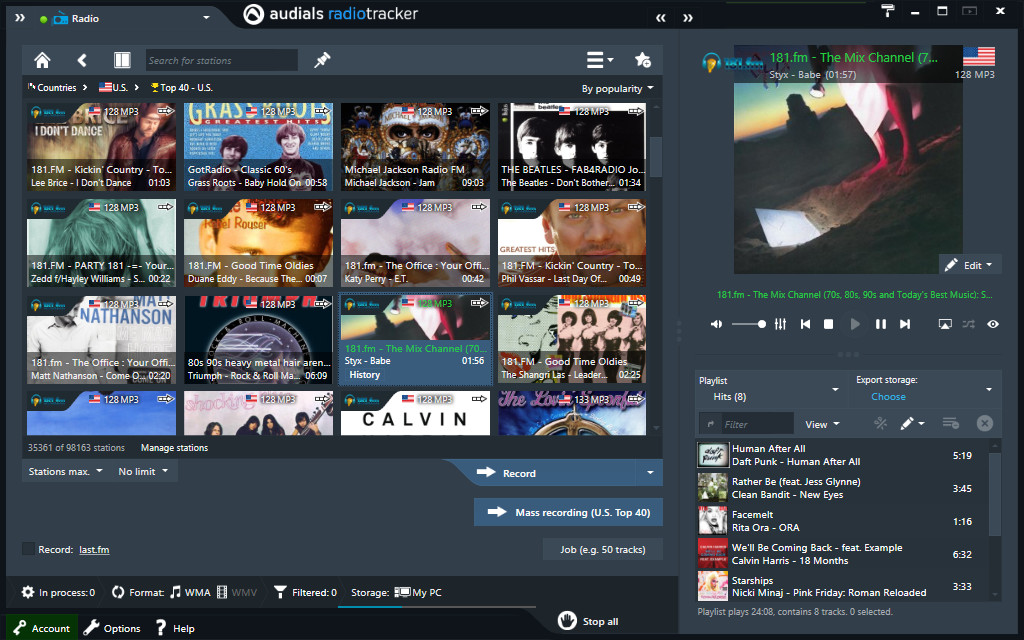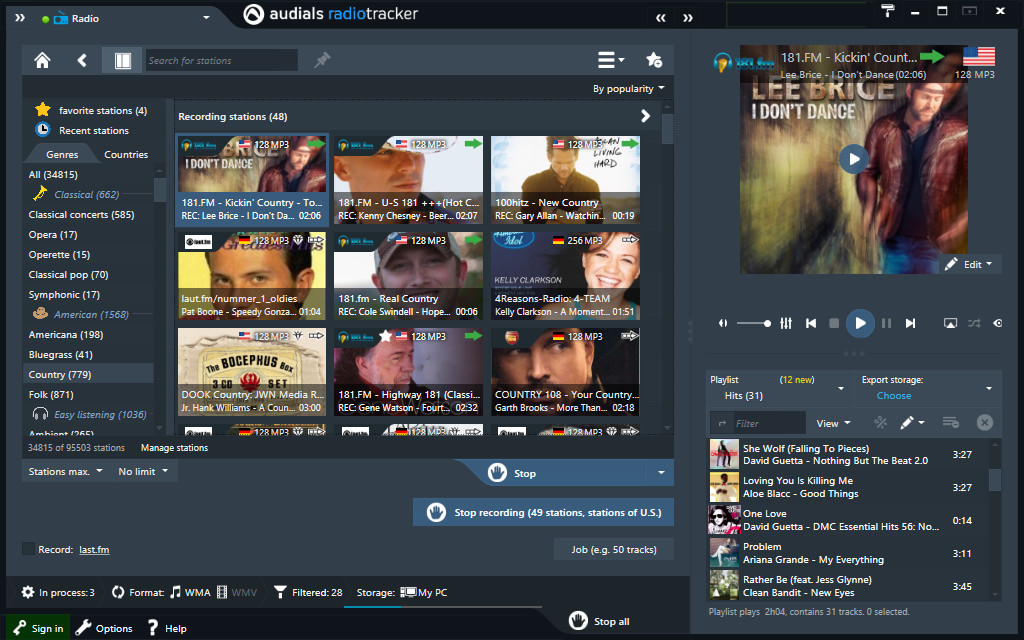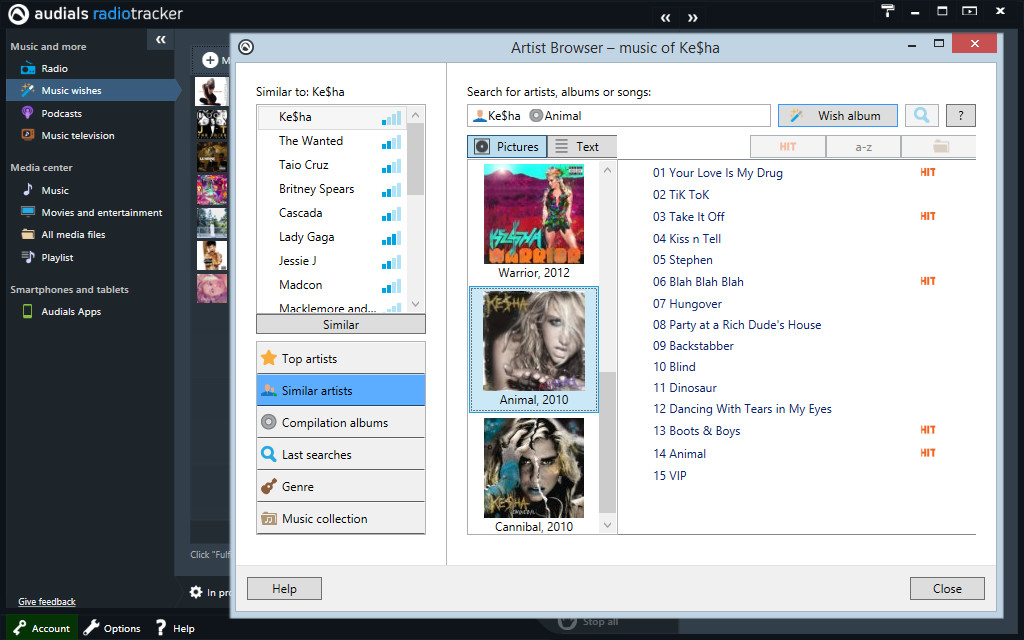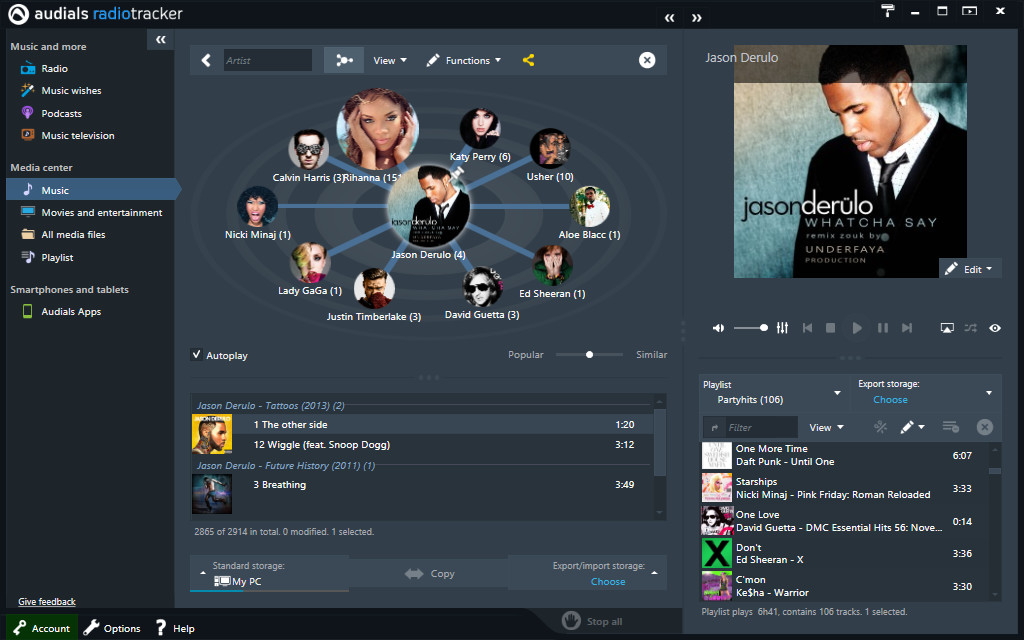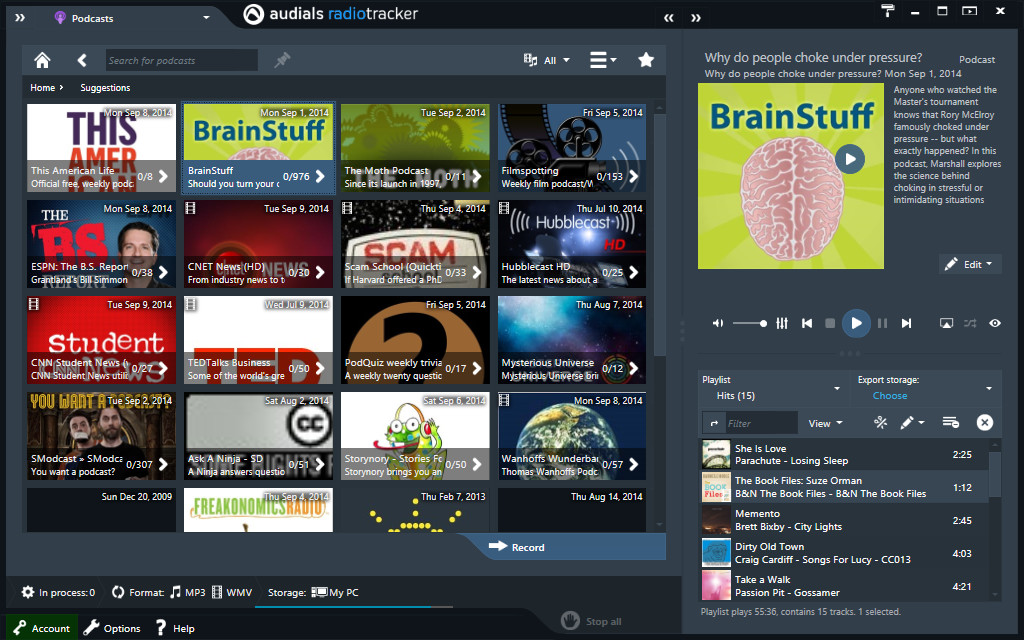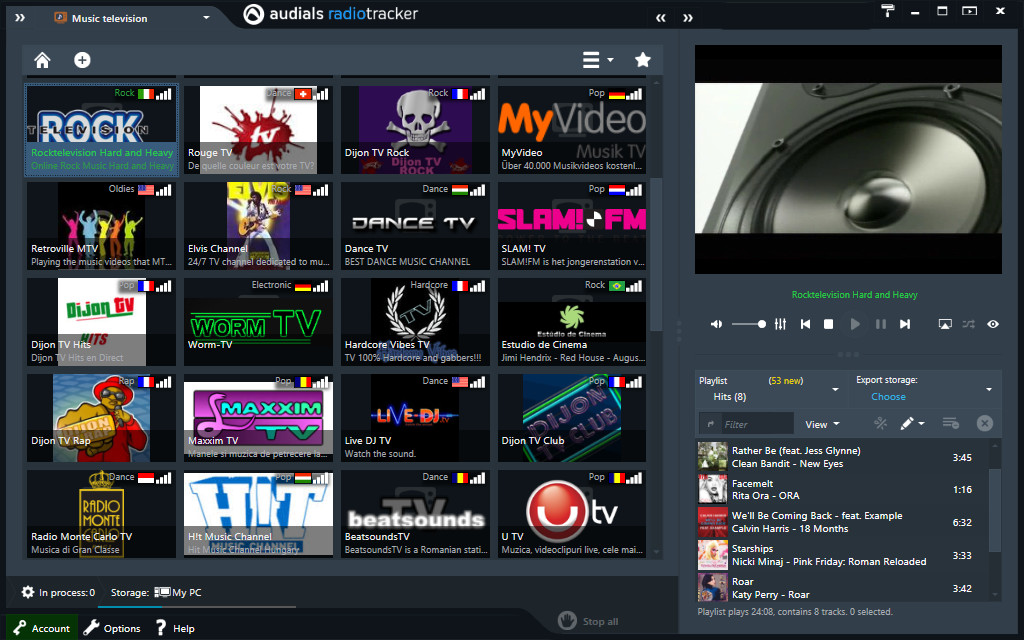 Descrição
Listen to Radios, record Music, enjoy Podcasts & Music-TV - Audials Radiotracker is...
Listen to Radios, record Music, enjoy Podcasts & Music-TV - Audials Radiotracker is your cheap Step-in into the World of Internet Radios!
90.000 Radio Stations from 120 Genres – no one offers more
No other piece of software offers as many possibilities for maximizing Internet-radio entertainment. Using Audials Radiotracker is easy and it takes just a few seconds to find international, regional and local stations that frequently play your favorite artist. Audials Radiotracker even shows you who's playing on a given station before tuning in. We can't explain it, you just have to experience it yourself.
Audials Radiotracker delivers massive Amounts of Music from any Genre, Chart Hits, complete Albums or even the complete Discographies of your favorite Artist!
The Audials Radiotracker database contains an impressive 10,000,000 tracks. Simply select an artist, album or individual track and Radiotracker goes to work, using the Audials Network to find the right radio station and automatically record your desired tracks, before saving these new files as private copies on your PC.
Entertainment Bonus plus perfect Music Management
As an added bonus, Audials Radiotracker delivers tons of podcasts and top music TV programs from the Internet. Furthermore, there are loads of extras to make managing your collection on your PC or your cloud easy. Even loading up your shiny new smartphone with brand new media is child's play with Radiotracker.
FEATURES:

Make individual song recordings (MP3, WMA, AAC) from any Internet radio station

The world`s largest database containing over 90.000 Internet radio stations

Optimized navigation with page tabs to display by genre or country

Display and filter by editing quality, bitrate, stream type

Live radio player that displays the album cover of song currently played

High-powered instant search function for radio stations by genre, country, commonly played artists and/or stream quality

Make automatic and parallel mass recordings of numerous stations by genre, country, artist

Recordings edited to the millisecond via PerfectRadio, fingerprint-based editing of individual songs

Detailed adjustable quality: only those songs that fulfill your specifications for editing accuracy, bitrate, etc. are saved

Timer for time-controlled radio recordings

Automatically add song lyrics via Internet meta searches

Normalize the volume of all radio recordings to a uniform level

High-performance editing enables fine-tuning of radio recordings

Audials Apps: synchronize all your favorite media to use on smartphones/tablets

PODCASTS – SUBSCRIBE TO AND ENJOY EPISODES

Comprehensive database with more than 120,000 international podcasts

Watch or listen to episodes immediately via streams

TV shows, informational, music - more than 25 popular categories

Find and sort by language, name and popularity

Download all episodes with a click, and automatically convert into the desired format

Subscribe: monitor new episodes and download automatically

High-powered search by title, episode, topic, comments

MUSIC TV – RECEIVE AND WATCH VIDEO AND SHOWS

Contains all major music TV stations, with a selection of top channels

Live player enables simple, quick channel surfing

Adjust picture to any size or use full screen mode

Clearly arranged with station logo, country info and music genre

Add customized streams as a station at any time

Automatically update database with new stations

MEDIA CENTER – ENJOY MUSIC, MOVIES AND ENTERTAINMENT ANYWHERE

Convenient player with playlist management functions and graphic cover display

Easy to use for beginners, expert displays available with configured information columns

High-power search of entire medial collection

Playlists for similar artists and genres generated automatically

Supports YouTube, etc., links and videos in playlists

2 High-performance dual-device display enables flexible transfer from and to a wide-variety of devices and file locations

Optimized for Android-Smartphones & Tablets, Apple iPhone™ & iPad™

Preconfigured for all major clouds: upload, download, sync and use in playlists

Audials Anywhere enables remote access to media collection, use PC as private media cloud

Ringtone editor: create ringtones conveniently. Wireless uploading to cell and smartphones available

Audio Editor enables post-editing of music files
Prós & Contras
Prós
Não encontramos pontos positivos.
Contras
Não encontramos pontos negativos.
Avaliações sobre o Audials Radiotracker 12 - Steam