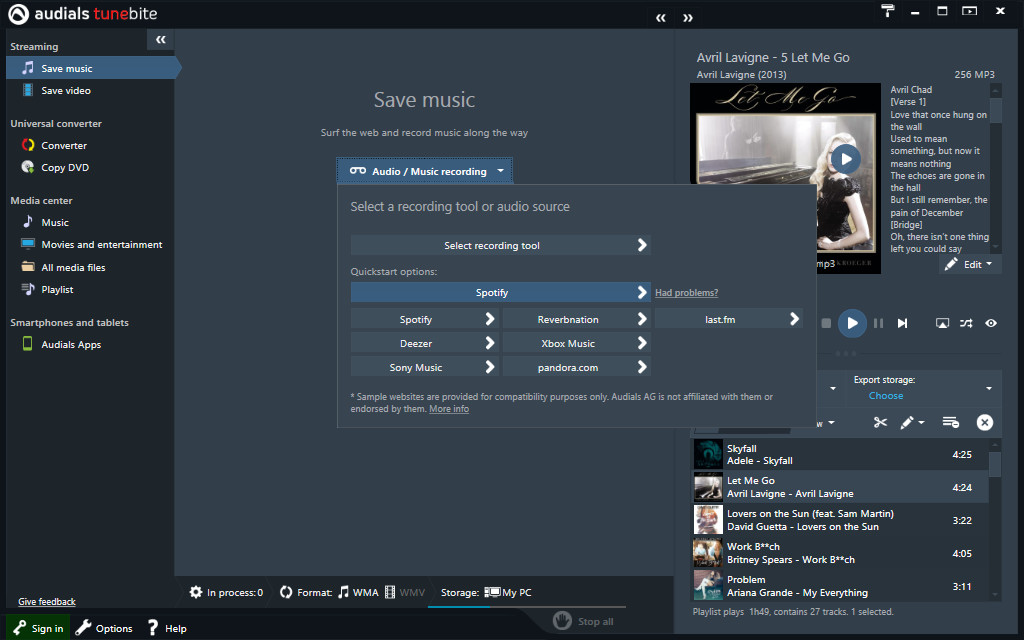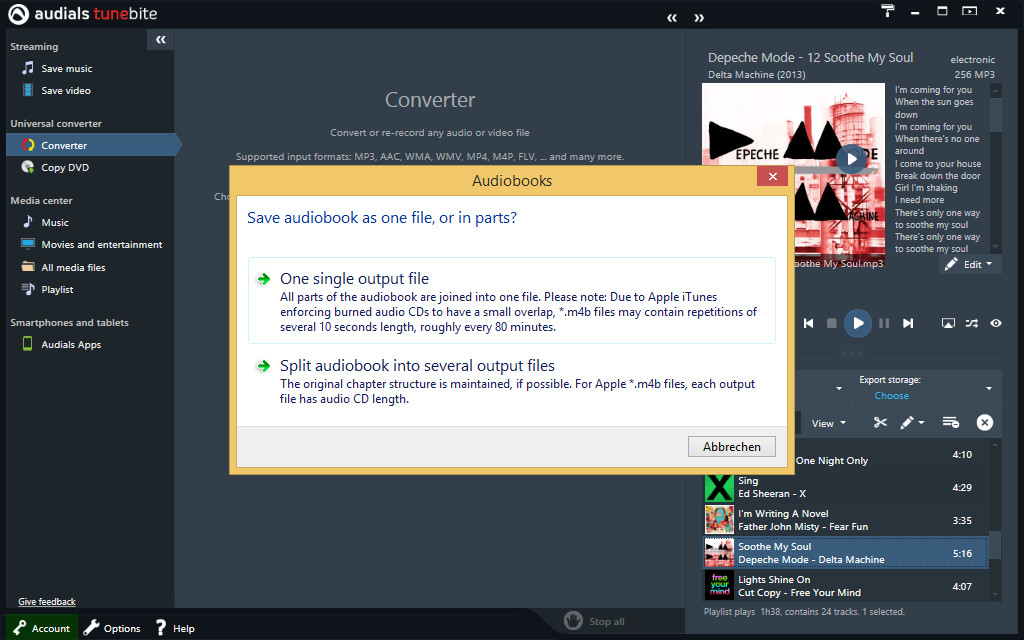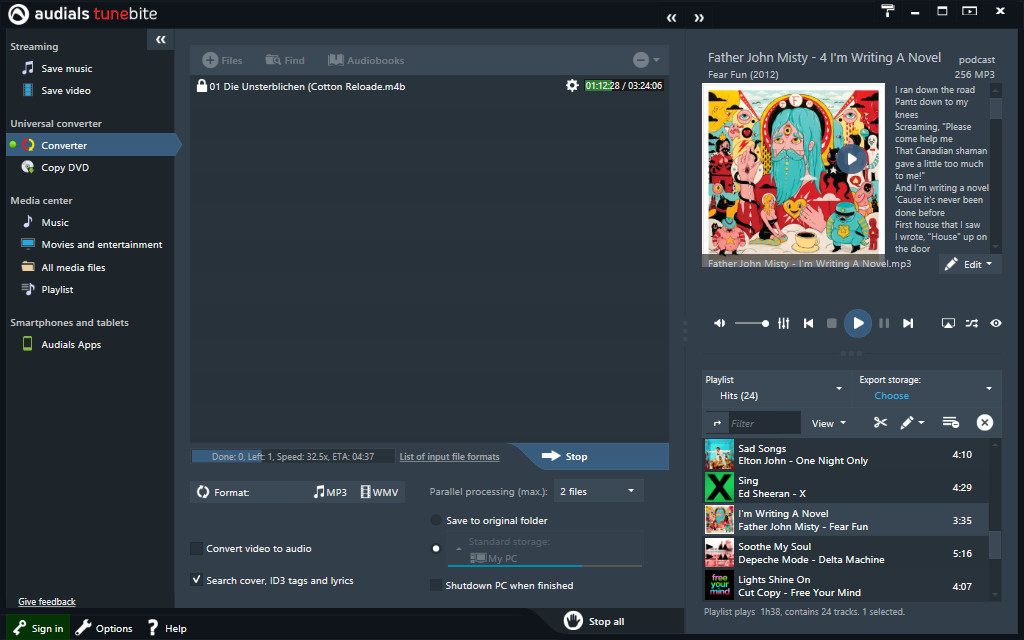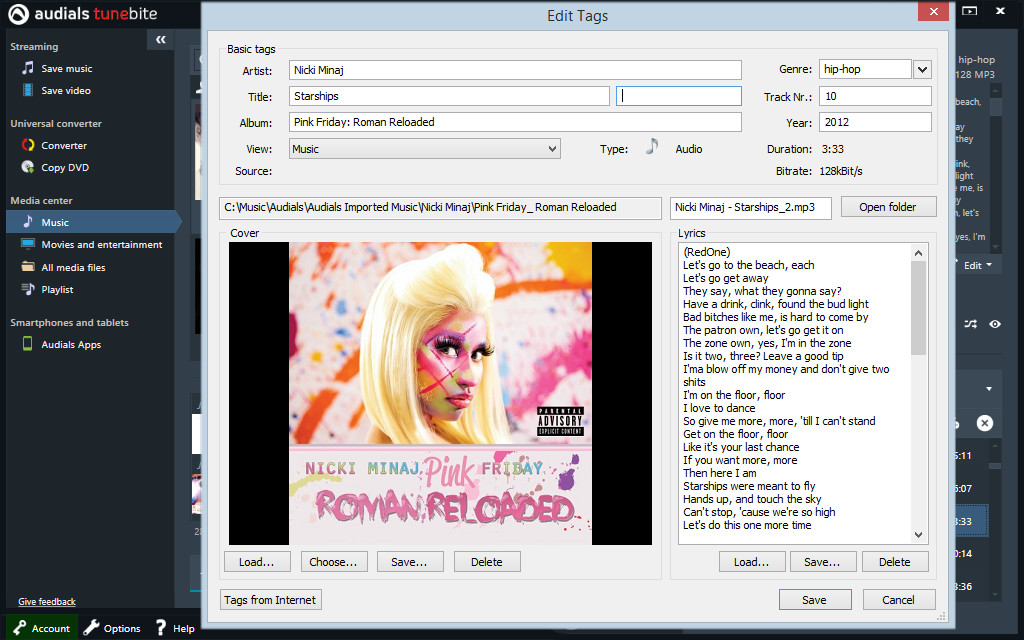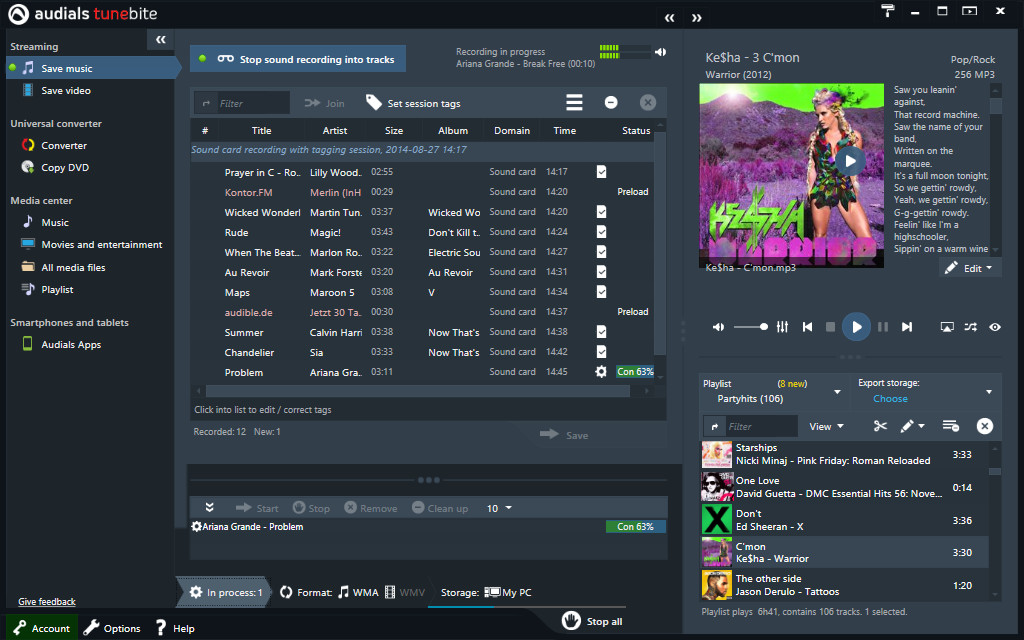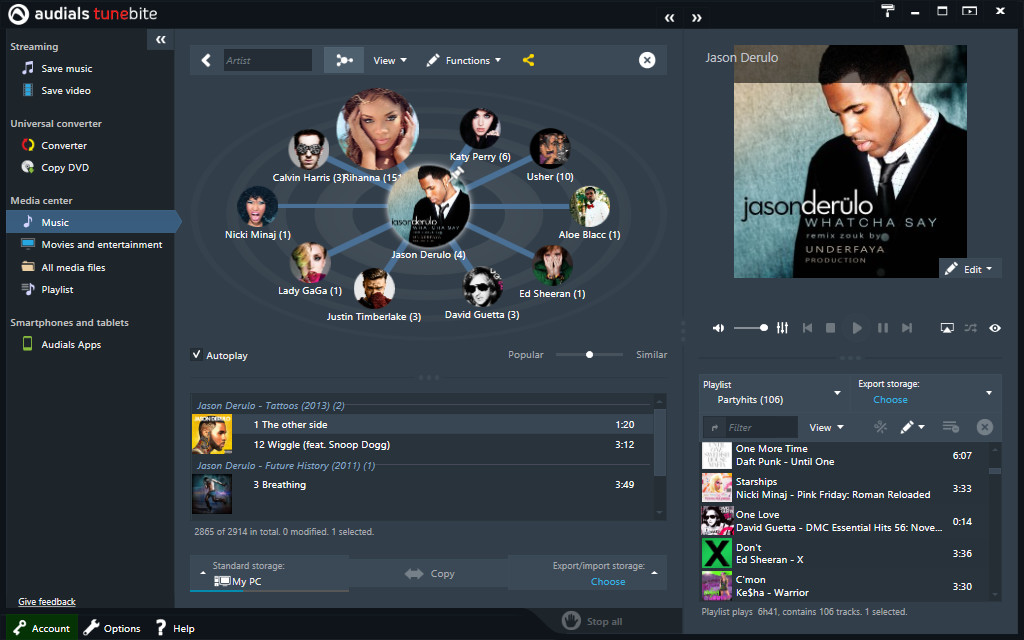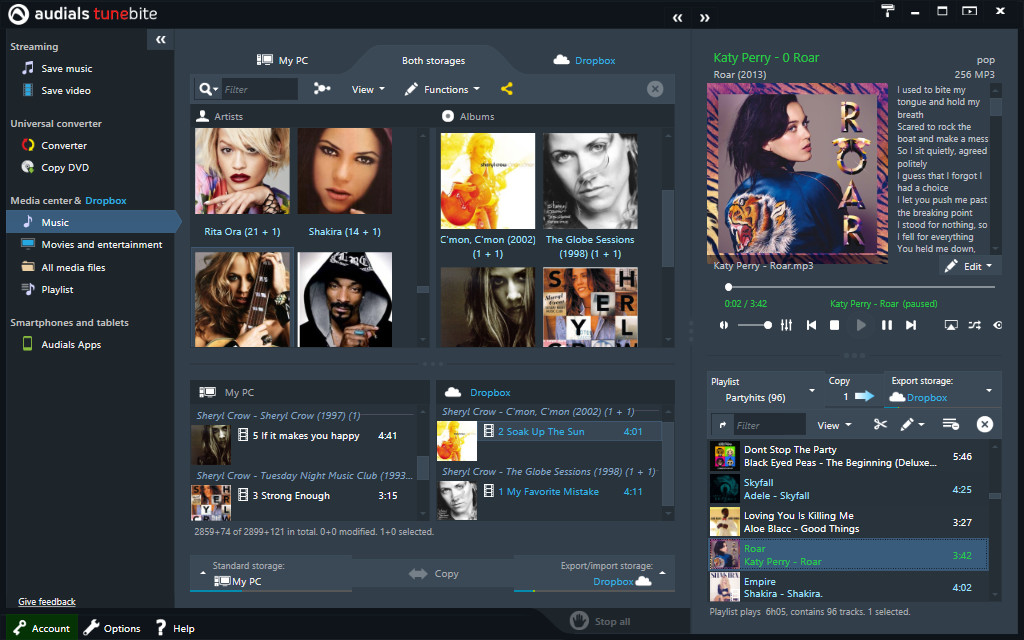 Descrição
Low-price tool for recording Music as MP3 Files from Streaming Services. Audio Converte...
Low-price tool for recording Music as MP3 Files from Streaming Services. Audio Converter. ID3 Tag Editor. Music and Cloud Manager. Player.
Automatically record Music from Streaming Services
Get more from music streaming services! Audials Tunebite records any protected or unprotected audio stream on any player or website, before automatically saving those songs as MP3, WMA or AAC files and with completed tags.
Convert any Audio File for any Device
Audials Tunebite copies protected music, audiobooks and audio files quickly and without sacrificing quality, before saving those files in any desired file format. Choose from one of 30 different audio file formats for PC, smartphone, tablet or game console.
Optimally manage Music and enjoy on any Device
Audials Tunebite completes your pre-existing music collection with missing ID3 tags and delivers a brand new experience with tons of artist and album images in the Music Universe. Transferring music to your cloud, to another PC, smartphone or tablet is incredible easy. Even playing back your new files is quick, easy and convenient.
FEATURES:
RECORD MUSIC – SAVE AUDIO STREAMS AS INDIVIDUAL SONGS


Record audio files from the network layer while separating those files into individual songs

Record any audio file from any audio stream with fingerprint-based recognition and subsequent separation into individual songs

Records every stream from any location in individual, named songs

Perfect for streaming services, social radio stations, music portals and all kinds of protected and protected streams

Automatic addition of ID3 tags, album artwork and song lyrics for recorded songs

Compatible with spotify, last.fm, simfy and many others

Pre-tagging optimizes capturing of complete albums

Recognizes links to MP3 files on visited websites, download MP3s with a click

Completely automatic feature may be activated to enable background processes (saves every song played)

High-powered in-place editor enables convenient addition of missing tags

Export recorded songs while recording


AUDIO & VIDEO CONVERSION


Import all major audio formats to convert

Export audio formats include MP3, WMA, WMA Pro, OGG, WAV, M4A and FLAC

Converts protected audio files as well by playing those files and automatically re-recording them at high-speed

Universal profiles for easy configuration

Simultaneously edit as many files as desired in parallel

Optimizes files for PC, Mac, smartphone & tablet, Apple iPhone™ & iPad™, game consoles Xbox™ & PS3™ and many others

Virtual CD driver enables converting for audiobooks


MEDIA CENTER – ENJOY MUSIC, MOVIES AND ENTERTAINMENT ANYWHERE


Convenient player with playlist management functions and graphic cover display

Music Universe enables visual browsing of similar artists in your own collection

High-power search of entire medial collection

Playlists for similar artists and genres generated automatically

2 High-performance dual-device display enables flexible transfer from and to a wide-variety of devices and file locations

Optimized for Android-Smartphones & Tablets, Apple iPhone™ & iPad™

Preconfigured for all major clouds: upload, download, sync and use in playlists

Audials Anywhere enables remote access to media collection, use PC as private media cloud

Automatic Internet searches for missing ID3 tags, album artwork and song lyrics

High-performance tag editor, easy drag-and-drop tagging available

Flexible rule-based re-sorting of file names / folders available for entire music collection

Ringtone editor: create ringtones conveniently. Wireless uploading to cell and smartphones available

Audio Editor enables post-editing of music files
Prós & Contras
Prós
Não encontramos pontos positivos.
Contras
Não encontramos pontos negativos.
Avaliações sobre o Audials Tunebite 12 - Steam