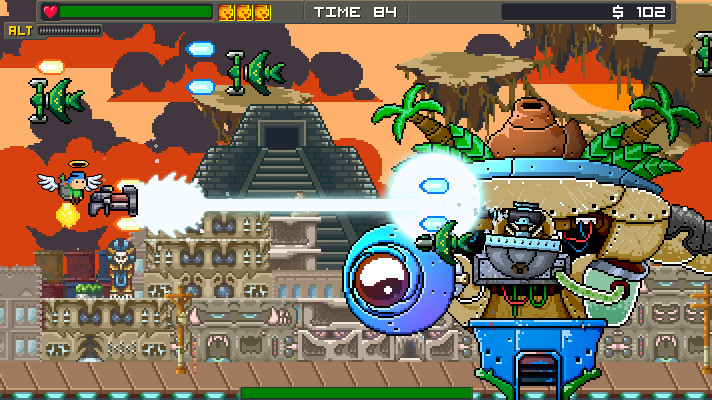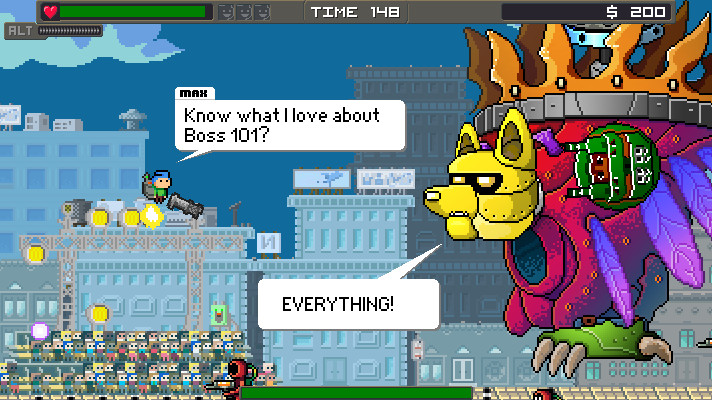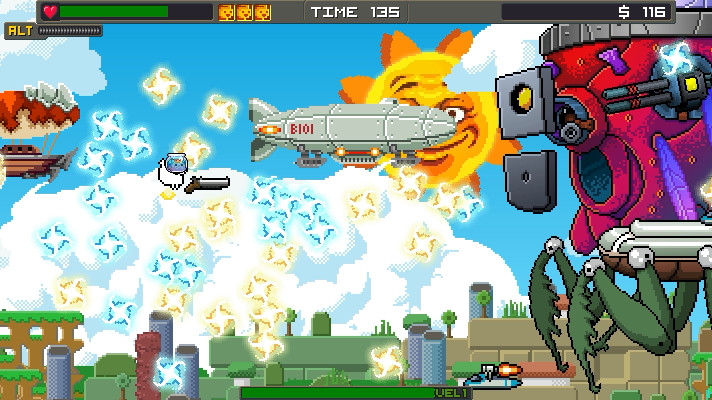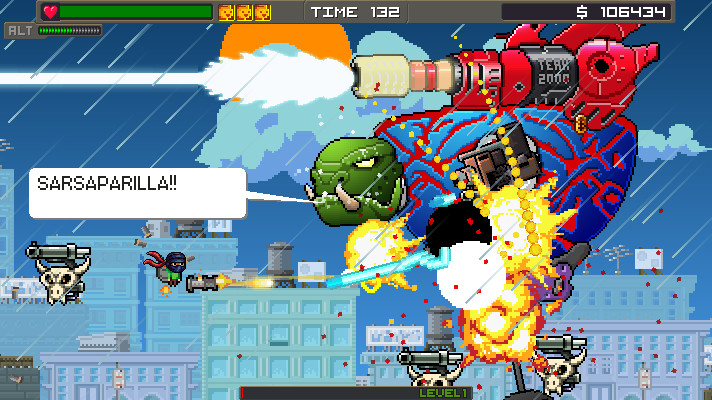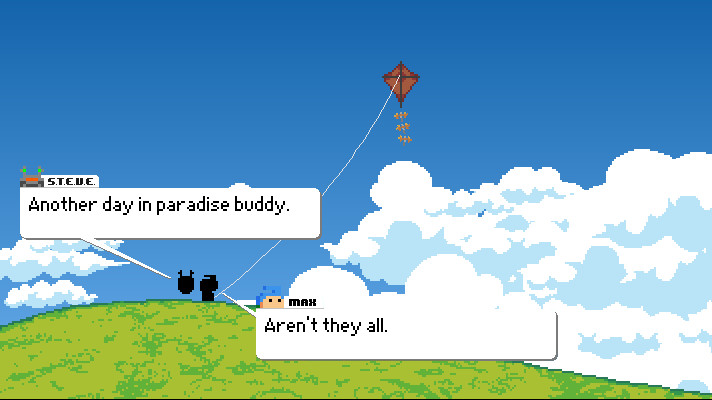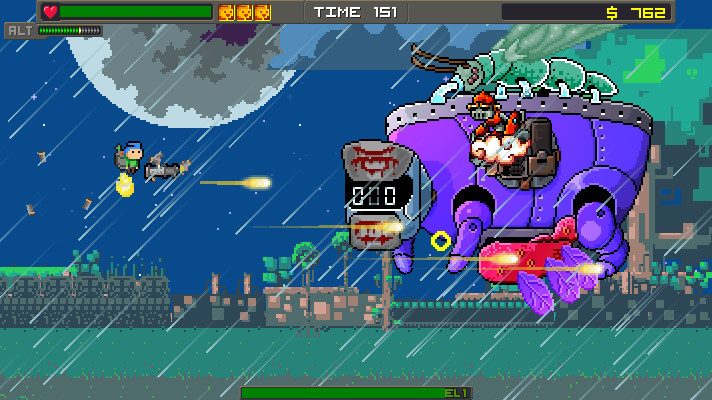 Descrição
Boss 101 starts with your brother`s request for an action packed birthday. Unfortunatel...
Boss 101 starts with your brother`s request for an action packed birthday. Unfortunately he`s in the hospital so it`s up to you to bring him an unforgettable home movie.

From there you`re off across the globe and galaxy looking to save the day and bring back awesome movie footage to your brother. As you travel you will be returning to your command center for rest, weapon upgrades, and research. Heck, you can even play arcade games and fly a kite if you like!

During your journey you will battle bosses you rolled up in the magical Make-A-Boss generator. You engage in combat, chase and even missions to recue baby robo-AI`s from the clutches of the biggest baddie of all, the dreaded Boss 101. Game rounds reward the player with cash for upgrades, guns and hats, all of which help you fight better and tougher bosses. That`s not all because Max and STEVE aren`t above commenting and outright sarcasm on their opponent`s abilities. You will fight robot of all sorts - animals, samurai, aliens and DINOSAURS! You heard right!

Major Features:

31 levels across 9 worlds - In the main story mode you travel across the globe and into space as you battle your way to the final encounter with Boss 101.

Procedural Bosses - You, the player, get to roll your own boss to fight. Tougher bosses pay more bounty!

Cash and Upgrades - Beating levels and bosses earns you cash for one of five major upgrades in the game. Including Super Max mode!

Guns, buffs and more - back in your Command Center you purchase from an array of weapons, buy equipment to augment your character for battle and even dress yourself up.

Customize your player with Hats - the player can outfit their character with nearly 200 planned hats, each of which grants one or more special powers like earning extra money per shot, doing more damage, health boost, damage reduction and speed boosts. Yes, some just make you look cool.

Multiple weapons during the rounds - rocket launchers, laser rifles, lightning guns and the dreaded fist cannon are a few of the weapons you will use.

Story and Dialog - each level features custom dialog between Max, STEVE and the boss of the level. Additionally, there are in game reactions to the combat as it evolves. If someone is throwing a train car – STEVE and Max are gonna say something. Subsequent returns to your command center also feature changing dialog to move you along with the story and help you understand what's been happening.

Fully orchestrated Soundtrack - each level and game screen has an orchestrated score to help drive home the awesome adventure the player is on.

Arcade Games - you got your own machine to play games in the Command Center - so play `em. Maybe you will get something for your efforts.

Kite Flying - everyone needs a break - take one and chill on a hill with Max and STEVE.

Gameplay Modes:

Story - Base game with progression through 31 levels/rounds

Save the Robos - We also have missions where you will be taking Baby Robo's safely into space.

Warp Chase - Follow the boss as he warps from level to level. While flying through innerspace you will have to knock him out of the warp tunnel before you can resume the fight.

Endless Boss Mode - this is you with one life seeing how far you can get against an endless array of bosses. Keep going against random bosses until you die.

Quest and Recover subgames - these are modes that will reward players for things like (but not limited to) completing rounds using certain weapons, not dying, beating a round in under a certain time, high score per round, best multiplier, chain combos, high scores per game, overall time per game, etc

Builder Mode for Bosses - so most of the time you roll randomly in the Make-a-Boss room but we are looking at allowing players to build EXACTLY the boss they want to fight. This mode would be outside the story mode and would essentially allow you to build ultra hard (or ultra easy) bosses out of specific boss parts to fight. Mostly it would be about bragging rights to your friends to say "Oh I built a Tyrannosaurus, Spida-Bear and beat it with a PISTOL!"

Hardcore Mode - you have one hit point and that`s it. This is as a sub variation of the Endless boss or any of the other gameplay modes.

Scoring Methods - some of the ways the game will track your progress includes things like chain combos, multipliers, time attacks


Current Progress
We might guess your #1 question is "Where is the game progress-wise and when can I play it?"

We've spent the last year working on Boss 101. All the primary art and much of the base tech has had its first and sometimes second and third pass. This includes bosses, levels, minions, player weapons, VFX and overall UI along many others. We're now focusing on the tweaks and tunes to weapons, scoring and feel of the game. What's in the game is workable but let's be honest – you want the best and so do we. We're taking the time to tune, playtest and make it awesome.

Our current estimates put the game landing late 2015. That is really dependent on how things come together from a gameplay and bug quashing perspective. We think it's very doable but we also believe there is no point in rushing a game out the door. Your support means something to us and we want to make it count. We've been keeping a weekly blog going for a while now and we intend to keep it up.Steam Trading Cards, Steam Saves and Achievements These are all planned for release. We`ve already planned out our Steam Achievements as well as laid out our Trading Card ideas.Early Access This is mos-def on our minds but if we do Early Access we want to make it a meaningful process for us and you. That said - we`re listening to you!Languages We`ve been asked about the release of Boss 101 in different languages and the short answer is yes, we would love to release it in as many languages as requested. We`re a small team so for the main release we are targeting English. From there we will be looking to translate it to the most requested languages.

If you`re interested in helping us or just want to put in a request for a specific language please contact us directly at (hello@donleytimefoundation.com) with your request or info.Mac and Linux We are concentrating on the PC version for ship. Linux is a We will look into Mac after our initial release.
Prós & Contras
Prós
Não encontramos pontos positivos.
Contras
Não encontramos pontos negativos.
Avaliações sobre o Boss 101 - Steam